Cable line monitoring; the TOPAZ distributed fiber optical system for thermal control (the "Temperature Control System," or "TCS") is designed for measuring, recording, processing, displaying, and transmitting continuous temperature profile data along the entire length of the optical fiber cable to an upper level (automated process control system, dispatcher center, system control center, etc.). The TCS is used to monitor 110–500 kV cable lines along single-mode and multimode optical fiber, either built into the power cable or laid separately. The TCS can be used either individually or as part of a centralized monitoring system for an energy company (figure 1).
Figure 1. Options for using the TOPAZ TCS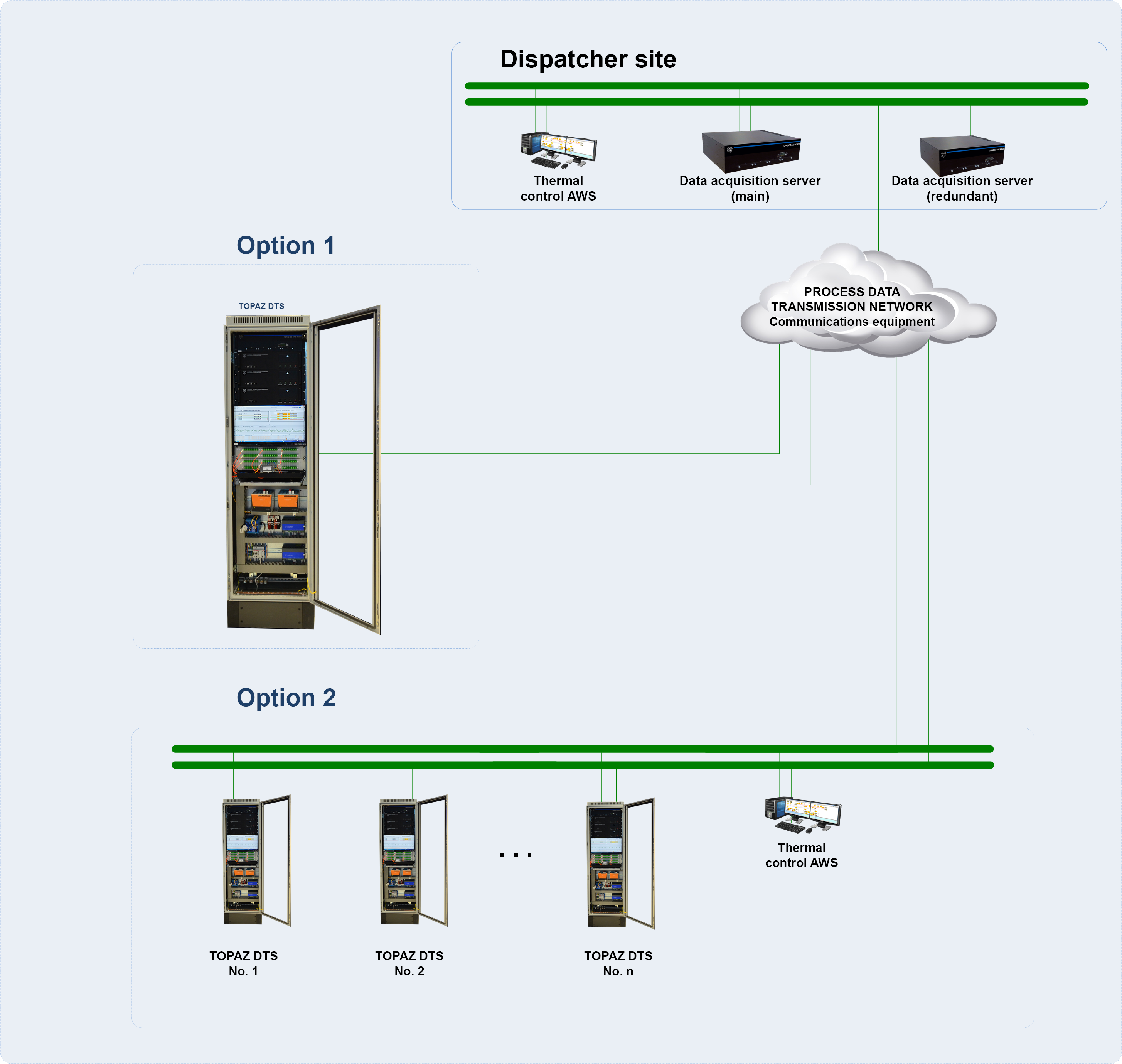 Key benefits of the TCS:
· Event detection (overheating, disconnection, etc.) with geodetic coordinates for prompt response
· A function for estimating and balancing the cable line load
· Maintaining an archive of cable line temperature profiles for long-term tracking of temperature anomalies.
· Application at digital substations.
The TCS is a complete and ready-to-use product: the system includes all the required components for setting up communication, collects, and transmits the full range of remote control data. The TCS is based on standard principles of a visualization system architecture. The TCS has open, scalable, and expandable architecture using solutions based on the IEC series of standards and open protocols for data exchange.
The TCS operation principle for temperature measurement is based on:
· measuring the Raman optical backscatter in optical fibers;
· using an optical time-domain reflectometer for distribution of measured values.
The main TCS element is a telecommunications cabinet, which includes a measuring optical controller (1–3 units), a server for data acquisition, storage and transmission (1–2 units), an automated workplace, an optical terminal box (amount is specified in the order), and an uninterruptible power supply unit (UPS) to ensure redundancy of the TCS power supply.
Depending on the cable line length, optical fiber type, number of connected channels, package, operational and other features, different TCS modifications are manufactured based on engineering designs and order terms and conditions. The TOPAZ TCS specifications are given in table 1.
Table 1. TCS specifications
Parameter

Value

Maximum optical fiber length, km

40

Length range for detection, m

1÷40000*

Number of measurement channels, units

4/8/12/16/ … /n*

Measurement step based on sensor length, m

от 0,5 до 1,0

Sampling resolution based on temperature**, m

1

Minimum single measurement time***, s

3

Temperature measurement resolution, °C

0,005

Operation mode setup time, min, max.

10

Accuracy for disconnection locating, m

±1

Optical fiber type

MM (type 50/125 or 62,5/125 ITU-T G.651)

SM (type 9/125 ITU-T G.652 or ITU-T G.654)

Optical connectors

E2000-APC or FC/APC

Emission sources wavelength, nm

975 - 1550

Operation mode

Continuous

Moving parts

None (uses fanless technology)

Interfaces

RS232/RS485, USB, RJ45

Data exchange protocol

МЭК 61850-8-1 MMS, МЭК 61850-8-1 GOOSE, МЭК 60870-5-104, DNP3, Modbus TCP, МЭК 60870-5-101, Modbus RTU, SNMP v1/v2/v3

Communication redundancy protocols

RSTP, PRP, HSR

Database interaction technology

Client-Server

Data storage period (including temperature profiles, fiber traces, and calculation parameters), months

Min 20

Power supply voltage, V

100÷265АС

24÷365DC

AC voltage frequency, Hz

45÷60

Power consumption, W, max.:

200

Autonomous operation time, h, min.

8,5

Operating environment:

- Ambient air temperature, °С

- Relative ambient air humidity at +25 ºС, %, max

-40 - +70

up to 95

Atmospheric pressure, kPa

66,0….106,7

Average service life, years, min.

30
The TCS has passed metrology tests (Certification No. 71907 on the approval of the measurement tools).