The TOPAZ FBU optical bypass switch is designed to protect optical data networks from failures during power outages or maintenance. TOPAZ FBU is an ultrafast solution for protecting critical fiber networks from power system failures with automatic recovery.
TOPAZ FBU is an industrial fiber optic bypass switch with four integrated LC connectors having an optical bypass function. Optical ports support 10/100/1000 Gbps fiber optic connections. The device automatically switches optical network traffic to prevent connection failures during power loss.

Principle of operation
Two ports are used to connect to two remote switches, while two other ports are used to connect to a local switch. TOPAZ FBU and the local fiber optic Ethernet switch are powered by the same power source.
When connected to power, TOPAZ FBU operates normally and transmits Ethernet packets between two remote fiber optic switches and a local switch.
between two remote fiber-optic switches, bypassing the local switch.
As soon as the power of the system device is restored, standard operation resumes.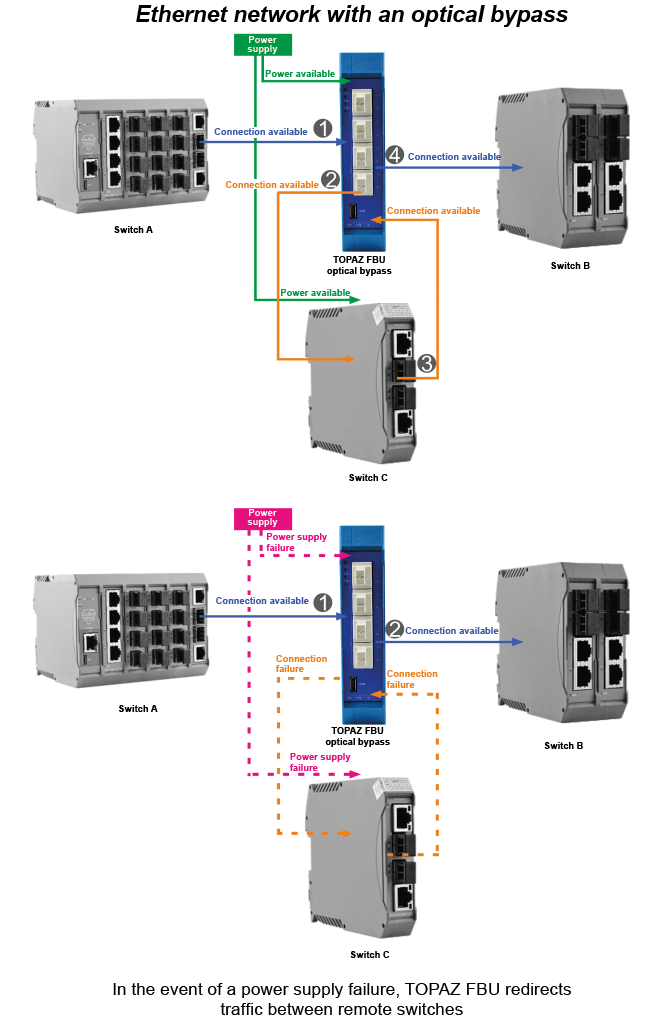 TOPAZ FBU has three power inputs to improve system reliability and uptime. Mounting on a DIN rail and a wide range of supply voltages (9 - 52 V or 90 - 265 V) and operating temperatures (from -40 to 75 0C) makes it possible to use the system in various industrial operating conditions.